For all the auditors knew, officials from now defunct Network Technology Group Inc. were just unorganized. Delays in providing key financial records only meant the Baltimore telecommunications firm wasn't ready for an audit.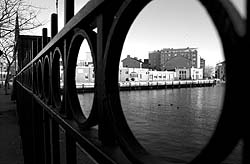 The turnaround specialist brought in to save the Fells Point-based NTG said there was sufficient money to pay off most of the debts — if only the accounting problems had been discovered a few months earlier.
---
"They weren't exactly pariahs in the community at that point yet," said Richard Magid, a lawyer for NTG's auditor, Ellin & Tucker Chartered.
In hindsight, management's stalling tactics were an early warning of NTG's spiraling finances. The company collapsed in July after it was alleged management had cooked its books. Creditors and investors lost millions. And last month its top executives were indicted on fraud.
Before then other harbingers had appeared, including a letter warning of errors on company books and demands by management for an audit "progress report" when information auditors needed to do such work was being denied.
But the clues were hard to identify without the perfect vision afforded to those looking backward in time, according to auditors. And since the mystery wasn't unraveled sooner, a multi-million dollar business that could have saved itself in May folded in July, according to a turn-around specialist hired to guide the company in its last weeks of operation.
Ellin & Tucker said its audit of NTG's 2001 books, a checkup tool that might have uncovered the alleged fraud, never even got to first base.
Auditors arrived at NTG in January to do initial fieldwork, but they left after a week of frustrated attempts and suspended the audit, according to Ellin & Tucker.
"They didn't get the basic ledger so there was no way to even start," Magid said.
That document served as a sort of company checkbook chronicling what it paid in expenses and what it received for work done throughout the year.
And it was a key tool used in audit procedures. Such procedures included checking bills and invoices with clients to ensure they were correct. While accountants had received partial lists of NTG's clients to send confirmation letters, there was nothing against which to match the incoming responses.
"When it was alleged that fraud was committed, it became obvious as to why management could not provide us with the documentation we needed to continue with the audit," said Edwin Brake, managing director of the Baltimore firm.
"It wasn't provided because if it were provided they would have been proving their own fraud," Magid said.
Not the first time
Ellin & Tucker had never had problems with NTG before so they didn't suspect wrongdoing immediately, company officials said. The firm had given the company clean bills of financial health in 1999 and 2000 audits. While indictment papers for NTG's executives said the fraud began in 2000, it also said management had hidden some expenses from the audit firm.
It appears some of NTG's 2001 false accounts were hidden as well, court papers said.
Some NTG clients whose bills were inflated the most don't remember getting confirmation letters from the audit firm even though some properly billed clients did, according to a telephone sampling of the customers by The Daily Record.
Auditors said that if management had disclosed all records, any alleged false book entries would have been discovered if the audit had continued.
One example was Howard County Public Schools. NTG records showed the school district owed more than $1 million even though the work had yet to be done, according to John M. Collard, the turn-around specialist.
Collard was the one who went public with the alleged fraud after he uncovered questionable billings on the books.
Beverly Baker, NTG's former controller, right, pleaded innocent to charges of fraud in connection with accounting irregularities that put the company out-of-business.
---
Despite the entry in NTG books, Casey Burns, an accounting officer for the schools, doesn't remember getting a letter from auditors to confirm bills. He did recall getting a subpoena for his records from the U.S. Attorney's Office for the District of Maryland.
Accounting clerks from Anne Arundel County and the City of Taneytown also didn't remember being contacted by auditors. Both municipalities had been falsely billed on NTG books as well, according to Collard.
Still not all clients with problematic records on NTG books were hidden from auditors.
When auditors sent verification letters to clients that were disclosed, at least one responded — negatively.
The record for Nationwide Trenching Inc. was wrong, said Greg Hinkleman, chief operating officer of the Glen Burnie business. His company installed fiber optic cable and performed trenching work for NTG from January 2001 through August 2001.
According to Hinkleman, the auditors asked him to confirm that NTG owed Nationwide Trenching $543.
The bill was short by about $883,000, Hinkleman said.
To back up his claim, Hinkleman sent Ellin & Tucker a copy of a lawsuit he filed Jan. 22, 2002, in Baltimore County Circuit Court against NTG to recoup his money. He also called the auditors.
But Ellin & Tucker said any communications would have been set aside since auditors were waiting for the necessary financial records to proceed with their work.
The notice became another lost clue — one that Collard called "careless."
"Wouldn't you want to know what that is? A thick package comes back not a thin envelope," he said.
His Annapolis-based firm, Strategic Management Partners Inc., specializes in fixing faltering companies. Collard has been left mopping up some of the mess left by the ruined company gratis.
Lately he has been working to help former employees get back $35,000 in 401(k) contributions that never were deposited in employee retirement accounts.
If only ...
Collard said it was unfortunate auditors didn't voice their problems to the board of directors sooner.
"If you stopped the audit, why didn't you notify the board of directors that you stopped the audit?" he asked.
Auditors did attempt to notify the board in May. But Collard called the effort foolish.
At the time, management had pressured the firm for a report on its progress in the audit so it could be distributed at a board meeting.
Ellin & Tucker acquiesced and gave Thomas Bray, NTG's former chief financial officer and a board member, a preliminary report with a list of 56 items it needed to do a real audit. Since then, Bray has been indicted.
While Ellin & Tucker initially denied releasing a draft report, a board member confirmed the document had been passed out. Collard said Mercantile-Safe Deposit & Trust Co., which was considering the renewal of a $3.5 million line of credit to NTG, also received a copy.
It is unclear whether the open item list was distributed with the report.
Mercantile officials refused to comment on the issue. A board member, who at first spoke on the condition of anonymity, also declined further comment. Other board members didn't return calls.
Collard didn't remember hearing anything about the open item list when he received his copy during his first few days as interim CEO at NTG.
How the board and the bank understood the document also was unclear.
The document, meanwhile, was never intended to be even close to final, said Brake.
"It was a work in progress at that point," Brake said of the unsigned document. He said the audit firm basically had just turned in the numbers it had been given by NTG from the start since little work had been done.
Ricardo D. Zwaig, attorney, left, and his client, Victor Giordani Jr., former CEO of NTG, leave the U.S. District Court House after Giordani pleaded not guilty to 10 counts of fraud.
---
It was marked "preliminary and tentative — for discussion purposes only," Collard said.
Still it was in the form of a preliminary audit report with a cover letter saying the numbers had been checked against generally accepted accounting standards, Collard said.
Many accountants take more precautions when issuing a document with such a cover letter — even if it's unsigned.
"Normally, for an audit firm to protect itself, it would pull that letter," said Mike Stephens, a partner at Clifton Gunderson LLP in Timonium.
Stephens said it wasn't unusual to give a client rough numbers but the inclusion of such a letter can give weight to a document — even if it's marked preliminary.
Although in such a case the audit firm hasn't technically done anything wrong, "you could misconstrue it, depending on the reader," he said.
Whether or not the board members understood the state of the document, they were eager to receive a final version.
The draft showed NTG's finances in the red by $435,300 for 2001. Just the Nationwide Trenching misstatement would have driven the bottom line down to more than $1 million.
In all, there were bookkeeping errors of about $2 million that have would impacted the bottom line, according to the indictment.
Collard said the question of when the board would receive the final audit was a central concern when he was being interviewed to replace NTG's chief executive officer in June. The CEO, who has since been indicted, had left for health reasons. Board members wanted to know why they couldn't get the document from auditors.
His advice to their questions was prescient though it came too late to cure the problem.
It probably has something bad, and management didn't want the board to have it, Collard told one member.
Daily Record writers Peter Geier and Lily Henning contributed to this story.