The former chief executive of defunct Network Technology Group Inc. yesterday pleaded guilty to one count of wire fraud for using doctored financial statements to get capital for NTG before it collapsed.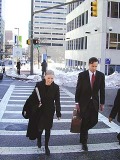 Michele Tobin, left, former chief executive of defunct Network Technology Group, walks with attorney Joseph Sollers outside the federal courthouse in Baltimore yesterday after pleading guilty to a fraud charge. She agreed to testify against other former top NTG executives.
---
Prosecutors from the U.S. Attorney's office agreed to drop nine other charges of bank, wire and mail fraud against 47-year-old Michele Tobin in exchange for her testimony concerning the roles others played in the scheme.
Three other top executives were indicted with Tobin. Two of those officers, including Victor Giordani Jr., the former chief operating officer, and Beverly Baker, the former controller, pleaded not guilty earlier this month. Thomas Bray, the former chief financial officer, has yet to be arraigned.
The plea offer was extended to Tobin on Jan. 15 — a week before the indictments were announced. She signed the agreement last Thursday.
Under the deal, Tobin submitted an 11-page statement detailing her part in the scheme.
In it, she alleges that she and Baker knowingly hid expenses from NTG books. Tobin also instructed other NTG employees to inflate accounts receivable and to list bonded jobs as non-bonded work so the company could use the false entries as collateral for bank loans, according to the document.
Tobin said all four indicted officers were aware of these actions, and used the cooked books in the spring of 2002 to lure investors to the Baltimore telecommunication services company.
After receiving fraudulent financial statements, including a 2001 year-end report that showed NTG in the black by $83,000, Smith Whiley & Co., of Hartford, Conn., invested $1 million in the company on March 4, 2002. The 2001 document hid the fact that NTG had actually lost close to $2 million that year.
Sources of capital like Smith Whiley were sorely needed at NTG after a major customer filed for bankruptcy in 2001 while still owing the company significant sums, according to Tobin. Not long after the Chapter 11 filing, NTG overdrew its credit line at Mercantile Safe Deposit and Trust Co. by $800,000 in order to make payroll.
As a result, Mercantile began extracting monies from NTG's bank account to pay back the debt. In return, to avoid losing more capital, NTG officers diverted subsequent revenue to a separate account at Allfirst Financial Inc, according to the testimony.
Tobin and her lawyer, Joseph Sedwick Sollers of King & Spalding LLP, declined further comment regarding the case.
Tobin wore a silk scarf that covered her shaved head and a black dress. When she resigned from NTG shortly before its collapse in July, it was rumored that she left due to health reasons.
But yesterday, her testimony indicated she quit after NTG's board of directors found the company's line of credit to be overdrawn at Mercantile. The board had subsequently sought to replace her.
Tobin's sentencing date was scheduled for May 16. She could face up to 30 years in jail, a $1 million fine and restitution obligations for the wire fraud plea.
But a lighter punishment will be recommended, according to the U.S. Attorney's Office for the District of Maryland.
The recommendation is still being worked, said Assistant U.S. Attorney Dale P. Kelberman, who is in charge of the case. Recommendations would depend on how much Tobin cooperates in the rest of the investigation, and how disputes over her level of accountability in the scheme are resolved, Kelberman said.