When Greg Measley left for work on July 11, he knew his Network Technology Group Inc. paycheck wouldn't be coming the next day.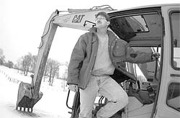 Greg Measley, a former foreman at the now-defunct Network Technology Group, Inc., was one of the firm's employees who stood by their work and finished their jobs even as the company was collapsing, leaving them with no paychecks for several weeks.
---
Rumor had spread that the company couldn't meet payroll. But Measley and the crew he managed decided to complete the job of laying sewer pipe for the City of Taneytown anyway.
"We felt through talking with Taneytown that we just wanted to do it — to finish the job for those guys," Measley said.
His dedication is one reason why many NTG customers praised the workers at the now-defunct telecommunications construction and installation company. It is also an example of why many say the real tragedy was what happened to its 125 employees.
After working that day, Measley found out NTG not only wouldn't meet payroll, but that it wouldn't exist by the next morning. Alleged fraud had been found on the company's financial books that covered up more than $2 million in debt.
With such news, investors and creditors cut off the company's cash flow and called their loans. They lost millions in NTG investments.
Employees lost two to three weeks of pay, a month of covered health benefits and $35,000 in 401(k) contributions that were never deposited in their retirement accounts.
In January, NTG's former top executives were indicted on fraud. One pleaded guilty last month.
"It was a slam to everyone," Measley said, even though he had seen hints of NTG's financial troubles.
As Measley ordered pipe, stone and other materials for the Taneytown project, it often took the company longer than normal to get the money for the purchases, he said.
NTG customers lamented the disappearance of a company that had provided such good labor.
"They got big recommendations from big companies," said Gary Hardman, city manager for Taneytown. MCI and WorldCom Inc. were among the telecommunication giants that gave Hardman positive referrals about NTG's work.
"Everybody loved the employees," he said about his own experiences with the company.
Still the efforts of Measley and his crew surpassed Hardman's expectations on that day in July when they came in to finish building a sediment wall.
"It was unreal that they would actually come out on their own time to finish up like that," Hardman said.
City officials weren't alone in their commendations.
"We had used them time and time again and were very satisfied with them," said David Soul, president of Baltimore Sound Engineering Inc. in Towson. His firm chiefly used NTG as a subcontractor to install wiring and data equipment in schools throughout Maryland from 1999 through 2002.
"Their workmanship was always good," Soul said about the employees. "It was truly a shame that something happened to cause the whole thing to collapse."
When NTG folded, Measley and others were suddenly out of work.
Measley counted himself lucky though. Between family and friends it only took him a couple weeks to find new employment as a carpenter.
In November he turned those efforts into Fawn View Construction Inc. of Fawn Grove, Pa. His company does excavating, hauling and utility work. Later he also was partially paid for his unpaid labor at Taneytown since a bonding company had insured the job.
Others weren't so lucky, he said. It took more than a month for most to secure new jobs. Plus they had lost two to three weeks of pay.
"I'm sure a lot of guys had to resort to borrowing money from friends and family," Measley said.
A turn-around specialist hired to guide NTG in its last days said some employees resorted to "borrowing from the company."
Jackhammers, compressors and other tools from company asset lists turned up missing after NTG shut its doors, said John M. Collard, of Strategic Management Partners Inc. in Annapolis.
One employee even tried to get Collard to pay him close to $10,000 for information on the whereabouts of a 60-foot truck and trailer. The equipment was valued at close to $150,000, Collard said.
But another coworker informed Collard of the truck's location before he could respond to the demand, he said.
Such actions weren't surprising given the situation, according to one human resources expert.
When companies downsize or layoff workers, one behavior model predicts some employees will continue to be loyal while others might neglect their jobs or voice their frustrations, said Edward Kemery, an associate professor at Merrick School of Business in the University of Baltimore.
"People have a strong sense of fairness, and if they feel they're being treated unfairly, they will try to readjust that level," Kemery said.
The thinking goes, "if I'm not going to get paid, then I can take it out on the company," Kemery said.
Most items at NTG were eventually found, although a white Dodge Ram pickup and a Ford Bronco are still missing.
Employees were given amnesty to return company property to NTG's yard. Collard said every morning before the auction in August new items would appear within those chain link fences in Fells Point.
"These people were screwed so badly we didn't want to add insult to injury," Collard said.