A $6 million lawsuit filed this week by an investor group widens the net of those being considered publicly for their roles in the crash of a former Baltimore telecommunications services provider.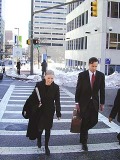 Former Network Technology Group Inc. CEO Michele Tobin pleaded guilty last month to doctoring financial statements given to The Bon Secours Community Investment Fund LP before it made a $1 million investment. The investment group is suing NTG's management, directors and auditing firm Ellin & Tucker Chartered for $6 million, including $5 million in punitive damages.
---
Two of defunct Network Technology Group Inc.'s four top executives have pleaded guilty to fraud, but The Bon Secours Community Investment Fund LP doesn't limit liability to management, according to the suit filed Monday in Baltimore City Circuit Court.
Instead, the investment group seeks $1 million in compensatory and $5 million in punitive damages against NTG's former managers, directors and its auditor, Baltimore-based Ellin & Tucker Chartered, for the $1 million loss Bon Secours incurred when NTG collapsed last July after accounting irregularities were discovered.
"There was a lot of negligence in the information provided to them," said Peter H. Gunst of Astrachan Gunst & Thomas P.C. in Baltimore, who represents Bon Secours.
The Delaware group uses its investments to improve low- to moderate-income neighborhoods like Baltimore.
Bon Secours placed money in NTG just four months before it folded.
If NTG's true finances had been known, Bon Secours never would have placed the investment, the investment group said in its court papers.
Doctored financial documents given to the group distorted NTG's finances by millions, according to the agreed statements of facts filed in U.S. District Court in February, when former NTG Chief Executive Michele Tobin and CFO Thomas Bray pleaded guilty to fraud.
Bon Secours' suit claims directors failed to properly supervise management and disclose past relations between management and Ellin & Tucker.
Ellin & Tucker's lead audit partner, Todd Feuerman, had performed many of the functions of the chief financial officer before NTG hired a permanent CFO in October 2000, according to the suit.
Despite that role, Feuerman still oversaw NTG's audits for 1999, 2000 and 2001.
Bon Secours alleges that had the relationship been disclosed, it would have called into question Ellin & Tucker's independence as an audit firm.
The former directors named in the suit were Robert M. Stewart of Spring Capital Partners in Baltimore, John Picciotto of Towson, Gerhard Pilcher of H.B. Rowe & Co. Inc. in Mount Airy and Nora Zietz, formerly of The Abell Foundation in Baltimore.
Stewart and Pilcher did not return calls for comment.
Zietz said she couldn't comment since she hadn't yet seen the suit. 
Nondisclosures alleged
Bon Secours also claims the audit firm didn't follow generally accepted auditing standards in preparing financial documents that were given to Bon Secours in the course of securing its investment in March 2002.
Of particular concern was a lawsuit filed against NTG by one of its subcontractors, Nationwide Trenching Inc. The Glen Burnie company claimed NTG still owed it $883,000 for work it had performed for NTG from January 2001 through August 2001.
Even though Nationwide Trenching's president had called Ellin & Tucker auditors to notify them of the lawsuit and sent them a copy of the complaint, the lawsuit wasn't disclosed when NTG management asked the audit firm to provide a list of pending cases shortly before Bon Secours placed the investment in March 2002.
Ellin & Tucker officials did not return calls for comment.
The Nationwide Trenching lawsuit also did not appear on a preliminary audit report for 2001 issued to NTG management two months later, in May 2002.
In past interviews, Ellin & Tucker representatives have told The Daily Record that the accounting firm had stopped work on the 2001 audit in January 2002, when auditors couldn't get the necessary financial documents to continue.
The letter from Nationwide Trenching would have been set aside until the firm resumed its 2001 audit, according to Ellin & Tucker officials; however, they said, the audit was not resumed because the required documents were not received.