| | |
| --- | --- |
| Former NTG employees will get 401(k) money thought lost | SMP Library |
Strategic Management Partners

A nationally recognized turnaround management firm
specializing in interim executive leadership, corporate renewal,
and post acquisition support for the private equity community.
Story &nbsp SMP Home Page &nbsp Contact SMP
SMP Library Index - Articles of Interest - Watch List
NTG Press Coverage Summary
Former NTG employees will get 401(k) money thought lost&nbsp &nbsp &nbsp &nbsp Text

by Kathleen Johnston Jarboe, Daily Record Business Writer

&nbsp




SECTIONS:
Former NTG employees will get 401(k) money thought lost
By KATHLEEN JOHNSTON JARBOE
Daily Record Business Writer
Checks will be in the mail as soon as next week for about 80 former employees of the defunct Network Technology Group Inc. of Baltimore.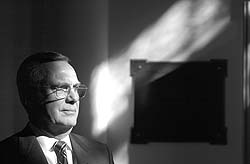 John M. Collard, the consultant who has been overseeing the defunct NTG, said he is gratified that former employees will get reimbursed from an insurance policy.
---
The checks not only cash out the employees' old 401(k) accounts but also replace nearly $40,000 in paycheck contributions that never was deposited to their accounts at Transamerica Corp. as NTG faltered in the months before its demise.

"I'll take it," said Dan Hays, a former NTG employee who now works at Vision Technologies Inc., of Glen Burnie. Hays said about $1,500 to $2,000 of his contributions never made it into his retirement account.

NTG folded last July after accounting irregularities were found on the books that covered up more than $2 million in losses. In February, two corporate officers pleaded guilty to fraud. Two more await trial scheduled for September.

When the company went under, employees lost two to three weeks of pay and a month of covered health benefits on top of their retirement account contributions. Investors lost millions.

The issuance of the checks closes one of the last chapters for the former telecom services provider. But it doesn't necessarily heal bitter feelings.

"You still have individuals who took food off peoples' plates," Hays said.

Employees were abruptly notified the company was out of business when they arrived for work July 12. Hays had been managing an infrastructure project then. To keep customers happy and the project moving, Hays had begun to charge project materials to his personal credit card. The company's funding had sometimes lagged in the weeks before it collapsed.

His bill was at $7,000 on July 12. While he has recouped some of the lost money through tax deductions, he lost most.

"It's not a good trade — $2,000 for $7,000," Hays said.

Still, recovering the misappropriated 401(k) funds will help.

The funds were obtained after a theft claim was made on an insurance policy NTG held through Travelers Property Casualty Corp., said John M. Collard. Collard runs Strategic Management Partners Inc. in Annapolis; he was hired to guide NTG just days before it collapsed.

Collard became administrator for the account after he revoked that status in July from the corporate officers who were later indicted on fraud charges.

Last week, Collard sent letters to former employees, notifying them they could cash out their 401(k) accounts and pay the taxes on those funds or roll them over to new retirement accounts. Collard has heard from almost 60 percent so far about what should be done with their accounts.

Collard, who has been finishing up NTG business without pay for some time and has filed suit over the unplanned work, was glad to tie things up.

"I am just delighted, considering I'm not being paid for all this and it requires a lot of time and energy," he said.

But the consolation is employees are getting their money back, he added.

Copyright © 2003 The Daily Record. All Rights Reserved.
Other Versions
The Daily Record Archives &nbsp
This article is being reprinted and presented with permission. This link to Archives is provided as a courtesy, but may expire without notice if the story is deleted from the Archives by the daily record's publisher.


We welcome constructive inquires. More information is available if required.



There is more to Strategic Management Partner's Return to Home Page




Contact Information
John M. Collard, Chairman
Strategic Management Partners, Inc.
522 Horn Point Drive
Annapolis, Maryland [MD] 21403
Voice 410-263-9100 Facsimile 410-263-6094 E-Mail Strategist@aol.com.

We serve as experts for comment or quote, please contact us at 410-263-9100
We welcome constructive inquires, please send via E-Mail to: &nbsp Strategist.
Copyright © 2002-2003 Strategic Management Partners, Inc.