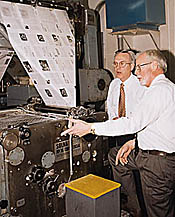 Geoffrey Sowers (right), president and CEO of Sowers Printing, shows John M. Collard of Strategic Management Partners how the big web press works. Collard's Job will be to help position Sowers for continued prosperity in the next century.
Crossroads
Printer hires consultant
to lead major transition
With an eye toward retirement from day-to-day responsibilities and no natural successor, the president and CEO of Sowers Printing has hired an outsider to lead a major management and marketing transition for the 115-year-old family business.
"I want to retire," said Geoffrey L. Sowers, who has guided the well-regarded print plant at North 10th and Scull streets for the last quarter century. "There is no natural successor in-house, and my son is in the computer business and has no interest in the print business."Sowers' 80 employees print everything from full-color catalogs for American University in Paris to credit card envelopes for AT&T. The bulk of the printer's business is clustered in the New York City region where Sowers serves nonprofit organizations like associations, foundations, colleges and churches. Sowers also maintains a strong presence in Philadelphia and Washington D.C.
Rather than just hiring a new general manager to handle daily work at the plant, however, Sowers said the board of directors realized the time was ripe to chart the future direction of the company as it plunges forward in a high-tech world where lines between traditional printed material and online computer information often blur.
"We decided that maybe what we needed to do was have someone come in and take a look at what we were doing and where we were going," Sowers said. "One of the things we found was that top management was always so tied up in doing day-to-day management that whenever we'd have a consultant who'd give us some great ideas, we'd never get a chance to implement them."
At the recommendation of a search committee, Sowers hired John M. Collard, president of Strategic Management Partners, as interim chief operating officer in charge of direction during the transitional phase. Strategic Management Partners is a transition management and investment firm based in Annapolis, Md. Initial plans call for Collard to be on board for 90 days before a permanent management team is appointed.
Sowers will remain as president and CEO of the company, and all board directors remain as company directors and advisors.
"We shall continue our ownership of the company; providing quality service to our customers; providing a place of employment in the Lebanon community; and we are committed to upgrade the capabilities, products, and services being delivered by the company," he added.
Collard, whose tenure began 10 days ago, isn't being welcomed aboard to bail water from a sinking ship: Sowers comes off two solid growth years with sales up 15 percent in 1995 and 10 percent in 1996.
"I'm not an expert at printing," Collard freely acknowledged. "We have plenty of experts here. What I am an expert in is planning for change and transition. The whole industry is changing. It's more than just stamping four colors on paper; companies must survive by becoming a communications company. If you wait too long, you could end up in a bad situation, but if you move now, by the time change is mandatory, you're already there."
For instance, who would have guessed a few short years ago that a potential customer would window shop in electronic malls on the World Wide Web in addition to paging through a glossy mail-order catalogue printed on a web press?
Collard said that Sowers must prepare to marry traditional and cutting edge technologies as computer breakthroughs keep coming and coming.
"The printing industry is undergoing tremendous change, and it is expected to continue through the next decade," Collard said. "Customers are changing their requirements to become more competitive, customizing output for strategic advantage, and exploring new avenues of communication. Powerful electronic systems, digital imaging, high speed digital communications, specialized software, particularly in the prepress and image-to-plate areas provide the means to change the way we offer high-quality, low-cost, rapid response services to our customers."
Like the familiar TV commercial where a managing law partner doles out plane tickets to his associates so they can pay personal respects to accounts after their oldest client flies the coop because they've lost touch, Sowers and Collard will visit their own top customers over the next few days.
"Top management will sit down with top customers and ask, 'What do you think of Sowers? Where are you going?'" Sowers said.
"Customers and markets are changing," Collard said. "We want to know where they're migrating so that when we put capital expenditures into place for equipment, we can be very frugal in that investment."
Collard said he believes many upgrades could be purchased without borrowing money simply by increasing cash flow generated through better use of the existing presses.
"I think what this company clearly needs is a leveling of the volume," Collard said. He explained that Sowers experiences periods of hectic work where presses run full bore, separated by lulls where pressmen stand idle. His goal, he said, is to flatten those peaks and valleys for production gains.
Blips in the horizon that Sowers must pay heed include technology that will someday soon see a computer generate the image directly onto the press, bypassing traditional pre-press stages like going to camera, Sowers said. Then there's recording data on CD ROM discs and priming the Internet with information.
Return to Strategic Management Partners Index
Consummate Transition, a year in the making
At the Crossroads &nbsp Firm Turns Corner &nbsp Transition Progress &nbsp Sowers Completes Transition
Top